Ponownie ulubione // Favorites again
Ooo, to już luty? Wierzcie mi, naprawdę nie mam pojęcia jak to się dzieje ale czas ucieka mi strasznie szybko. Macie podobnie? Hmm... myślę że piszę tak co miesiąc :D
Ok, do meritum. Czas na podsumowanie miesiąca. Jaki był styczeń? Na pewno pełen roboty, była szalenie zajęta planowaniem, tworzeniem, pracą i innymi sprawami. Ale lubię to, to daje mi satysfakcję. Odkryłam wiele inspirujących rzeczy i obawiam się że jeden post to zbyt mało by się z Wami wszystkimi podzielić. Ale postaram się i mam nadzieję że również Wam się spodobają.
Wow, it's february already? Believe me, I have no idea what it's happening but actually time is running so fast. Do you feel the same? Well... think I'm writting this every month, sorry :D
Ok, let's get to the point. It's time for my monthly favorites. How was my january? Well, it was full of work, I was very busy with planning, creating, with my job and some other activities. But I like it, it's gives me satisfaction. I have found so many inspiring things that I think this blogpost it's not enough to show you them. But I will try and I hope you will like them too.
1. Minerały i kamienie - to moja największa inspiracja miesiąca.
Minerals and stones - this was the most inspiring to me this month.
2. Django - po prostu kocham filmy Tarantino więc na Django czekałam niecierpliwie. Kiedy obejrzałam kocham jego filmy jeszcze bardziej. Świetna gra aktorska i scenariusz. Uwielbiam!
Django - I simply love Tarantino's films so I was waiting for Django very impatiently. And when I watched it I love his films even more. Great

acting,

dialogues and

screenplay. Just love it!
3.
Hooray the Decay - nie mam pojęcia jak opisać uczucia które towarzyszą i gdy oglądam te zdjęcia. Uwielbiam opuszczone miejsca, są bardzo inspirujące.
Hooray for Decay - have no idea how to describe my feelings while watching these photographs. I love abandoned places, I found them very inspiring.

4. Linda z Tete De Caboche - jej prace są do siebie podobne ale bardzo isnpirujące. Opowiadają historie i sprawiają że sama mam ochotę tworzyć.
Linda from Tete De Caboche - her works are similar but also very inspiring. They are telling stories and push me to create.

5. Moja nowa obsesja kolorystyczna właśnie się zaczęła. Tym razem zielenie. Ten kolor jest po prostu nie do opisania. Spójrzcie:
My new color obsession is starting. This time greens. This color is just indescribable. Take a look:
6. Czy wspominałam o Django? Taaaak? :D Ale nie mówiłam Wam o świetnej muzyce do filmu. Relaksująca i piękna. Musicie posłuchać:
Did I mentioned about Django? Oh, I did? :D But I didn't told about the fabulous soundtrack! Relaxing and beautiful. You have to listen this:
7. Zaczęłam przygotowywać nowe kity kolażowe. Po prostu uwielbiam zbierać stare zdjęcia, koperty itp więc to dla mnie bardzo isnpirujące i ekscytujące zajęcie. Nowe kity niedługo w sklepie Etsy.
I started preparing new collage kits for sale. I just love collecting old photos, envelopes etc so it is very exciting and inspiring to me. You will see my new kits soon in my etsy shop.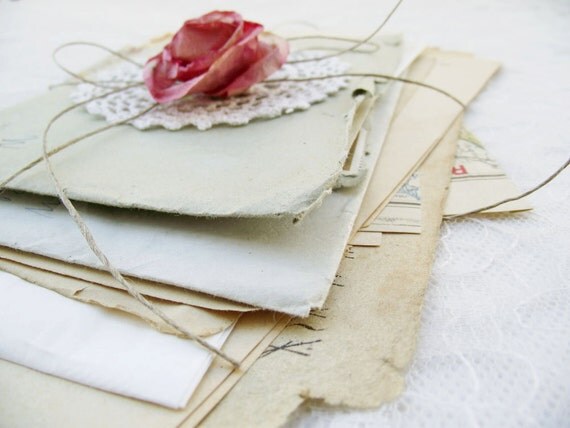 8.
Moze nie wiecie ale uwielbiam stare ramy. Ostatnimi dniami moją nową obsesją stały się też stare lustra. Nigdy nie wiesz co w nich zobaczysz.
You may not know but I'm so in love with old frames. But in last days mirrors becomes my new obsession. You never know what you will see while looking through it.
9. Zdecydowałam, chcę być cyganką i mieszkać w cygańskim wozie. Nie na długo, tylko na jeden dzień ale bardzo tego chcę!
I decided that I want to be a gypsy and live in gypsy caravan. Not for too long, just for one day but I really want it!
source
10
.I jeszcze jedna inspiracja. Ta wspaniała strona której autorką jest
Cynka
And one more inspiration. This gorgeous page by Cynka: